Company Profile
Did anyone ever become what they wanted, by remaining as they were?
There is one aspect that defines Print House above all else and that is a commitment to providing print solutions that make our clients look good.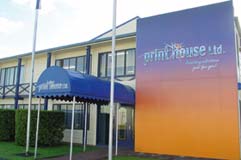 Print House is a privately owned company established in 1988. The team currently consists of 25 staff, including six Directors/Shareholders, three of whom also work on site.
We are a technically advanced commercial offset printing company with compatible 5- and 6-colour B2 format presses, multiple A3 presses and digital print and imaging (including Computer to Plate) plus full bindery facilities.
This equipment is unique in its ability to ensure competitiveness in all ranges of work from production runs of 50 copies to 500,000 copies and includes the ability to print on a wide range of stocks, even some synthetics.
Print House however is much more than just a Print Shop.
We provide our clients with a complete Print Management service, which includes not only printed products but also design, imaging, personalisation and data management, distribution, specialised finishing, CD-Rom presentations and Website development.
We pride ourselves on accurate costing in all areas of our business. We have developed our own unique Management Information Software for production analysis, job planning and on-line tracking, client contacts, accounting and estimating to ensure accuracy throughout our business operation.
This system provides our clients with the ability to track their work flow on-line if required, and the ability to order directly from our print management stores.
Delivery 'on time' is ensured by computerised management systems which track production throughout our factory.
Extending factory production schedules because of external changes are easily addressed and communication in these instances is the key factor to our success.
Quality is a key function for the Directors, Management and Staff. We empower each staff member to take responsibility for their service and workmanship.
So if you think we could be the right business partner for you, give us a call. We'll make things happen for you and your company.